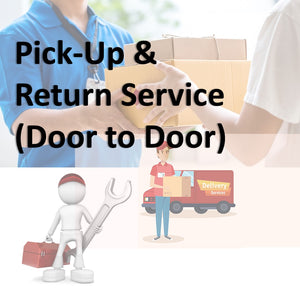 Save the hassle of bringing your equipment in for repair.
Let us arrange pick-up and drop-off (door to door) for you.
This service includes:
1 x Standard Pick-Up From Your Location
1 x Standard Return To Your Location
Steps:
Add this service to your cart, check-out and make your payment.

For "shipping address", indicate the address for pick-up.

A courier label will be emailed to you within 1 working day, with the estimated date and time of pick-up.

Ensure that your item is placed in a proper box (a re-used box is ok).

Plastic bags and soft-wrapping may be used, if u prefer, to wrap items

before placing them in a box.

Seal the box with tape to prevent accidental opening or spillage.
Affix the courier label clearly onto the box, preferably at the top. 

DO NOT include

accessories (eg. baskets, food pans, dividers, shelves, etc) unless the malfunction is directly related to these accessories.
As we use a 3rd-party courier for this service, please note the following:
Pick-Ups are only performed between Mondays and Fridays, 10am and 7pm, excluding public holidays.

You may request a specific date (subject to availability) but NOT a specific time.

Ensure that your item is properly packed and ready for pick-up before the scheduled date and time. Fees may apply for unsuccessful pick-ups.
Upon completion of repair and/or your payment of all related fees, we will arrange an estimated return date by courier. Fees may apply for unsuccessful returns.
Liability for damage, if any, to your item(s) will be limited to the amount paid for this service.
Any excess item(s) or weight will be charged accordingly.

NO SERVICE TO: Changi Airport, Alps Avenue, Jurong Island & Sentosa.