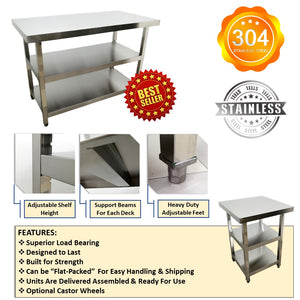 Stainless Steel 2-Deck / 3-Deck Work Table 
Model: YS-1807585-3-304
Dimension: 180 x 75 x 85cmH 
SS Grade (Main): 304
Includes: SS Heavy-Duty Adjustable Bullet Feet (+/- 2cmH)
Optional: Wheels (Select From Down-Down List)
🌻HIGH-QUALITY 304-Grade Stainless Steel
🌻SUPERIOR RUST-RESISTANCE
🌻STRONG & STURDY
🌻ERGONOMIC HEIGHT (85cmH)

GENERAL INFORMATION:
✔️REMOVABLE Middle Deck To Use As a 2-Deck Table
✔️ADJUSTABLE Middle Deck Height
✔️Support Beams Beneath All Decks For Extra Load Bearing
✔️Thick Stainless Steel Material Built For Strength
✔️Heavy Duty Height-Adjustable Bullet Feet For Leveling & Finishing
✔️Can Be Fitted With Castor Wheels (Optional)
✔️Versatile - Suitable for Commercial Kitchens, Industrial, Restaurants, Gardens, Patio, Balcony, etc

Our stainless steel work tables & sinks are designed to be strong and durable for commercial use settings. While our clients appreciate our focus on sturdiness and durability, and many have deployed them in their homes (usually home-based businesses or other garage work), we have not designed or intended them for domestic use due to their commercial-level finishing.

Notes: 
Photos for illustration only.
Units are delivered assembled (so you don't have to do it yourself)!
For castor wheels, final height of unit will be between 83cmH and 88cmH (depending on height of wheel). Wheels are not height-adjustable after fitting.
Sturdy
Purchased this for my shop. Delivery was fast and they kept in touch with me for all the arrangements. The table itself is quite heavy, so it definitely feels stable. I put quite many things on the table and it has no problem. Since there's no wood stuffing inside, I also won't have problems with SFA.