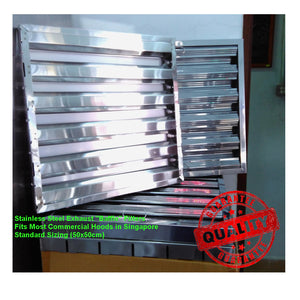 Stainless Steel Exhaust Hood Filters
Size: 50cm x 50cm x 4.5cmH (Industry Standard Size)

✔️Fits Most Commercial Hoods in Singapore
✔️Thick Stainless Steel Material
✔️Good Quality and Durable
✔️Fast Delivery!

Photos for illustration. Measurements are on best-effort basis and may differ slightly with actual product.
Lim TK
Item arrived fast. Quite sturdy and fits nicely. It's about 49.5cmx49.5cm, so it fits just nice. Thanks.